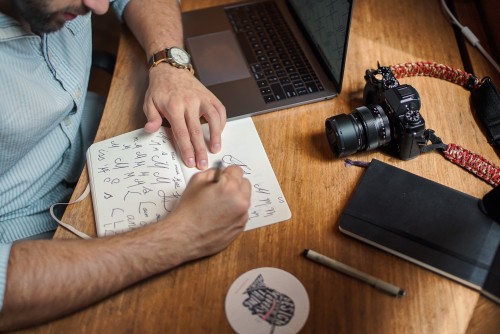 Today, we are often bombarded with brands and their logos. Some are eye-catching, some may feel pervasive, but they are all markers of successful businesses if so many people can recognize them instantly. A true mark of staying power is having a great logo and brand, something that conveys what you do or how you help people in just one image. That is a hard task to achieve, but at Sparkfactor it's our bread and butter. We have designed logos for all kinds of businesses and for all kinds of people. Read on to see what Sparkfactor has done with logos in the past and how we can help better your branding!
Where To Start Branding
In the past we've spoken about how you can best use tools to grab people's attention, be it eye popping colors or striking designs. It's crucial to get the logo down right because it's often the first thing people see about your business, and you don't want it to look amateurish. Start first with a design that is both easy to draw and incorporates parts of your business. You likely won't have something on the scale of Apple or Starbucks on your very first design, but getting out something fast and easy is better than nothing. Honing the design, making small tweaks here and there as you improve, will get you toward the logo you desire. Having a clean and easy to replicate design for your logo is key, in order for it to transfer to as many places as possible. At Sparkfactor, we research your company and do a competitive analysis of what is being used by similar companies and we find ways to incorporate the best of the client's business into the logo. Here are a handful of examples of ones that get across how slick and clean it should look. 

Using minimal fonts is good, there isn't too much crowded on the logo and they're very easy to read. Both of these logos also inhabit the same line, so the company's name can be read in one swipe of the eyes. Their specific designs, Troy Management with the horse and Neural Balance with the monitor line, also tie into how their businesses uniquely. Think of a motif or specific design you can add to your logo, like Nike's swoosh and how it conveys motion.
Logo Design Tools and Tips
How to incorporate the business's product or their location is an extremely good way to get across a lot of information in a small space. Even though today's logos, such as Starbucks or Apple, seem to diverge from this idea. Those companies now are global and easily recognizable, but with our smaller clients it's best to think of more practical logos for their brands. For a start, think of the best way to put something unique to your brand in your logo. If you are a baking shop for example, you may want to use a kind of cooking utensil in your logo. As our example, our 'On Devon' campaign in 2018, those in the Devon neighborhood asked us to design a logo for them.
We incorporated both the street, Devon, as well as the various types of shops and people who frequent them. We also found a way to incorporate the marker on a map into the logo itself. By using the map marker as well as the bright colors and inviting aura on the ad, we helped bring new life to Devon's neighborhood shops. This way eyes are caught to the image and hold onto it, the people in the ad can be people the audience knows. Another example is with the Sears Chef Challenge, within the logo we used a chef. By tying in the profession to the logo, we not only attracted chefs that wanted to participate but also show our audience what the challenge was about.
What Logos Do
At Sparkfactor, we design and develop logos for your company, products or events, taking special care to incorporate your designs as well as ours. Recently we designed the National Sales meeting logo for Terumo Aortic, with the phrase 'We Are Unstoppable' parodied with the popular Avengers movie font. It's simple, clean, and gets across what they need. This logo was used in all aspects of their national sales meeting. It was used in signage, the opening video, giveaways, and presentations and helped them deliver their message of being unstoppable when it comes to helping heart problems.
Incorporating popular current culture trends into your advertising is effective, but it's best not to rely upon it. Trends can change as time moves by, but using what is available in the short term is never bad. It will help yours stand apart from the crowd and draw eyes to those who understand the cultural reference. Sparkfactor will help you craft a logo as well as branding that will stand for a long time. With our work in graphic design, we make sure to find a good balance of the ideas you bring to the table as well as the ones we'll suggest for you.
Logos are extremely important when it comes to spreading your brand's presence around, be it online or in the physical world. By having a logo, your brand can feel more unified and it can give customers a sense of trust. It is an easy identifier of your business, and the logo itself can be marketable, you can put it on merchandise. Think about the impact you can make with your logo, and how it can boost your business if you create a successful one. Having unique, bright, and slick design always helps to gain your audience's attention. So consider using Sparkfactor to help design and create your logo today, and start building your own better branding.
Sparkfactor has been reocognised as a Top Branding Company by  TopBrandingCompanies.com.
Sparkfactor can offer you and your business ideas to help them soar to new heights! Consider reaching out to us for a free consultation!