Friday Face-off // Meat vs. Sugar
Chicago flavor champs Glazed and Infused  take on Wicker upsetters Bee & Tea to see who will rule over Sparkfactor meeting nosh rights. We put a team of six hand-selected doughnuts from the bakery take-out window at "Glazed" up against six meaty treats from the Wicker Park newbies, at Bee & Tea. The arena – a studio full of hungry creatives, just before lunch on a Friday. The format, simple. What get's destroyed first?
 The Contenders


Weigh In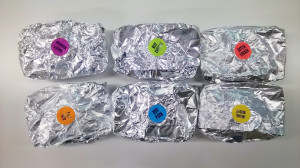 Who wins?
We're still counting to ten, but the noise in the stands sounds buy 5mg xanax online like this…
"My god those are big doughnuts"
– Duane Perolio
"Hey, this is really good"
– Vishnu Boray
"If it wasn't complicated, he wouldn't be a Creative Director"
– Mike Keating

All joking aside, we love food. We love our jobs. We love our awesome location in Wicker Park, and we love sharing with our great clients and with each other. Come visit us at 1644 N. Honore St. and let's grab lunch somewhere inspiring. The best ideas are hardly ever thought of on an empty stomach.
Hungry for more creative content? Come back for seconds and subscribe to our updates at sparkfactor.com.