For months now, analysts have been touting the demise of organic reach on Facebook. Some say that posts from business pages won't reach their audience unless they "pay to play." Others say Likes are irrelevant and have written off Facebook as a marketing tool. Fewer say that Facebook hasn't killed organic reach, just adjusted its news feed algorithm to provide quality content. Since it's not likely we'll learn what Facebook's algorithm actually takes into consideration, we help you learn how to take advantage of what Facebook has to offer and navigate through the news feed challenges.
Keep Your Page
The most important step is actually keeping your Facebook Business Page. It's not costing you anything to simply exsist, so keep it. It's a common assumption, especially for Millennials, that every business has its own Facebook Page. Even if your company sets other social sites to automatically post to Facebook, it's important to personally check in and monitor what's happening. Don't let your page just fall by the wayside. If there's no recent activity on your timeline, loyalists and potential customers may assume you're pulling back from soicial engagement, or worse, that you've gone out of business.
Know the Difference: Likes vs Followers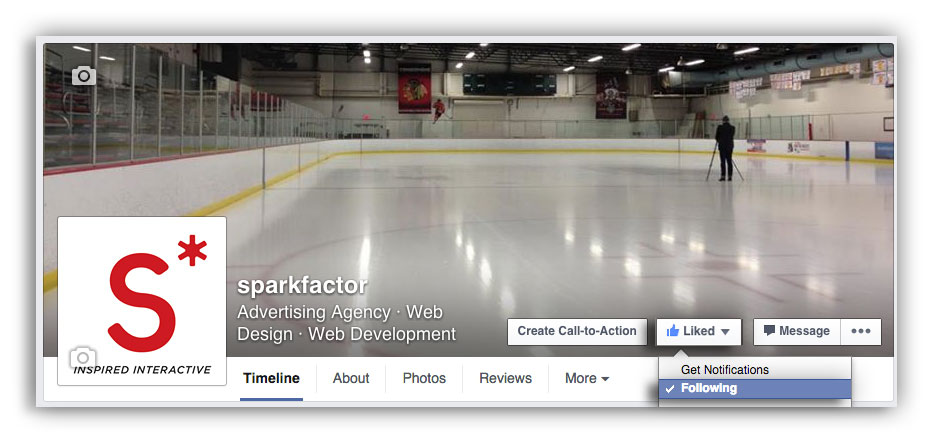 When Facebook first introduced business pages, everyone clamored for Likes. They like-gated their content, they herded people from their website to "like them on Facebook!", and tried to accumulate as many Likes as possible. Now that like-gate is over and organic reach seems to be reduced, what do you do with all of the Likes your page has amassed? Turn them into Followers. A Follower is someone who has liked a business page and wants to see the updates, so they click the "following" button to ensure that page's content shows up on their feed.
Facebook says it wants to stand by users so that the content they see is the content they like. Now when a user "likes" a Page, they also become a Follower. They always have the option of unfollowing the Page in the future, or opting to receive notifications every time the Page posts something. To keep Followers from unfollowing your Page, your goal is to write the content, post those pictures, record the videos, create those apps that will generate likes and shares but more importantly provide quality information to whoever reads it. Content that provides value for the reader will spread through shares, bringing more people back to your Page and your website. That's really the only organic reach that's left.
Boost Your Posts
If you create a post you think really has value for potential customers and you want to make sure it will get seen, you can "boost" that post. Boosting is a type of Facebook ad whereby you pay to put your post higher in users' news feeds. The post shows up as Sponsored on the feed and can show up on news feeds of both fans and non-fans of your Page. Like a traditional ad, a boosted post can have specific demographics and a set budget, but unlike ads, your content is already written. And it's a simple way to acclimate to the paid advertising of Facebook.
Pay for Ads
In addition to helping users see what's relevant to them, Facebook's goal is to bring in more ad revenue for itself. And Facebook's ad creator makes it hard to walk away. When you create an ad on Facebook, you can target a very specific group of people and get them to complete a specific objective, like visiting your website or claiming an offer. This is the perfect place to reach a demographic you can't speak to anywhere else, or to immediately target people in a specific area.
If you're going to pay to get people on Facebook to notice you, pay to get new people to notice you, don't pay to advertise to people who already know who you are. Facebook can be a valuable prospecting tool, especially with its specific ad targeting tools.
Build Your List
If you're not looking to increase your Facebook followers with paid ads, then slowly shift your audience away from Facebook. If you have an email list you regularly distribute content to, add a newsletter signup button on the Page. Build an email list that shifts the attention away from your Facebook page and to where your content actually lives: your website. Likes are only worth what you do with them.
The Future
Who knows what Facebook's next iteration of its algorithm will hold. Some are already speculating on a new ad format. But as Facebook seems to be dwindling down the organic reach, it's time to evaluate how Facebook benefits you. If you have a devoted following, it may be worth keeping up the engagement or trying to shift them towards your email marketing. If your Facebook page has been slow to take off, try your hand at paid ads or boosted posts.
Either way, Facebook shouldn't be your only social media strategy, it should play a part in a bigger toolbox of sites. Take a look at our social portfolio and see how we've helped brands like yours compete in the social arena.
Need help maximizing your page's reach?
{{cta('374f013c-ffc1-4dd1-bd30-f2a301fd15cd')}}