Motion Graphics are graphics that use video footage and/or animation technology to create the illusion of motion or rotation, and are usually combined with audio for use in multimedia projects. It is a digital technique that combines pictures, words, sound and video. Motion Graphic Design is a subset of graphic design in that it uses graphic design principles in filmmaking or video production context through the use of animation or filmic techniques.
Video Production is the process of creating video by capturing moving images, and creating combinations and reductions of parts of this video in live production and post-production (video editing). It is the art and service of creating content and delivering a finished video product.
Post-Production is part of the filmmaking, video production and photography phases. It refers to the tasks that must be completed or executed after the filming or shooting ends. This included tasks such as the editing of raw footage to cut scenes, insert transition effects, writing or (re)recording soundtrack, adding visual special effects, sound design, and working with voice and sound actors, to name a few of the many pre-production tasks. Post-production is the third and final step in film creation.
Siemens Building Technologies asked us to partner in creating an extensive series of motion graphics for their new e-Meter division. The family of over 30 related video shorts were presented live as part of their 2014 US product launch. The videos feature clean, illustrative graphics showcasing e-Meter's functionality in advanced metering, reporting, and loss-prevention.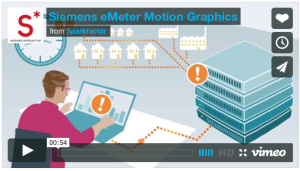 To learn more on how you can get started on motion graphics or video productions, visit our Free Consultation page.